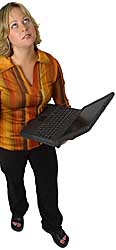 If you live in Monmouth or Ocean County, you're in luck.
On-Site offers a complete line of home services ranging from setting up your new system to installing your new software. Why bother with lugging your system to a store, when we can come out to you? Of course, you're more than welcome to bring your system in (and in certain cases, that is the better option). We'll work with you to provide a convenient time to resolve your issues.
We can custom design a computer specific to your needs. We can set you up with your own website. If you have more than one computer, we can network (connect) them together allowing you to share resources, i.e. printers, hard drives, modems, etc.
Home Service labor rates are $80 per hour for a stand-alone PC and $90 per hour for a networked PC, 1 hour minimum. A $10 fuel surcharge may be applicable. There are no hidden costs involved.